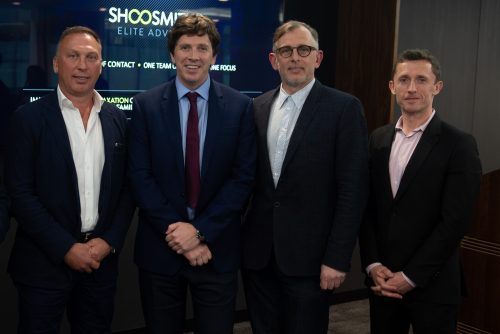 Law firms Shoosmiths has launched a new private client advisory service to manage the affairs of leading sports and entertainment stars.
Shoosmiths has appointed the former head of player liaison at Manchester City, Haydn Roberts, to lead the company's new Elite Advisory team.
The new service will draw expertise from across Shoosmiths and other specialist firms to meet the needs of elite clients.
At a launch event for the new team, held at Shoosmiths' Manchester office, speakers included former England international David Platt, Alistair Macintosh, chief executive at Fulham Football Club, and John Drape, managing director of Ground Control productions, a leading music and events business.
David Platt told the audience of guests, which included Simon Cliff, Manchester City's first general counsel, Sacha Lord-Marchionne, Warehouse Project and Parklife co-founder and Trevor Cairns, chief executive at LOVE agency, that high profile stars needed expert, timely advice from legal experts more than ever before.
He said: "The pressures on high profile performers, whether in sport or music, are greater now than ever and they need 24/7 access to trusted, expert counsel. Haydn's team and the team at Shoosmiths will be able to provide exactly this kind of service."
The Elite Advisory team is the result of a collaboration between Shoosmiths' private client and commercial practice groups and is unique in offering clients specialist, full-service legal advice from a team of experts through one point of contact.
Mr Roberts said: "It is no secret that the quality of legal advice given can make or break careers in the world of sports and entertainment. At Shoosmiths we have specialist, full-service expertise which is not only rare but integral for these industries who require a full spectrum of legal advice.
"Our first step was to bring these lawyers together to form one house of experts for these clients – and the second step was to create one point of contact within Shoosmiths for clients and the house of experts.
This is a unique and innovative move by Shoosmiths and has been very warmly received by clients including football agents and music entrepreneurs who not only have more time focus on the job in hand but also have peace of mind that their legal services are being dealt with by specialists who have the skills and expertise to robustly protect their interests."